At Wascana Animal Hospital, our team believes strongly in giving back and remaining active in our community. Some of the ways we do this, are by having team members available to visit preschools, elementary schools, Girl Guide & Scout groups as well as many other extra-curricular clubs. We also have had different groups come to our hospital for a tour! We provide veterinary education and are available to answer questions about what it is like to be a veterinarian or technician. We also are trained presenters for the "Be A Tree" program which educates people on how to read dog body language and interact safely with new dogs they may meet. Please call us at 306-789-0918 if you would like one of our team members to do a presentation for your group or to arrange a hospital tour!

---
Our veterinary team and Dr. Potts performed a pro bono extensive dental treatment for "Jilly" from the Regina Humane Society, so that she could be adopted out into her forever home! She is such a sweet girl and we were thrilled to help restore her oral health and feel better!
---
This November 2023 our hospital has a special promotion where we are having a pedicure fundraiser for Souls Harbor Rescue Mission here in Regina. Proceeds from our pedicure services for part of November are being donated to help provide meals for those in need this holiday season!
---
Our team has participated in the RHS Dog Jog/K-Lane Kennels Dogs in the Park. Besides being a sponsor for the Best in Group prize, we also participate as a team with our own dogs as well! We appreciate the opportunity to be active with our four-legged companions while supporting RHS animals in need!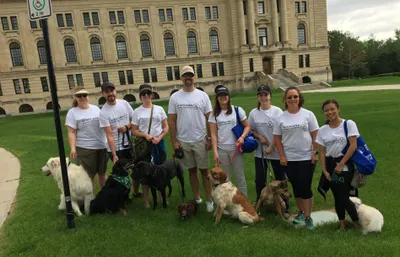 ---
Our team has attended Pet Expo at Evraz Place. We enjoy seeing many of our clients and pet lovers as well as the many rescue organizations around Regina, SK! Thank you to everyone who stopped in at our booth to talk with us!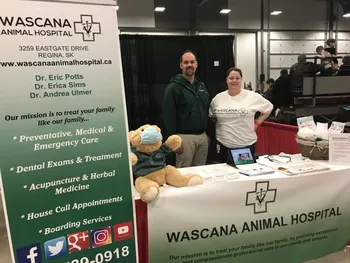 Dr. Potts and one of our RVTs greeting those who stopped in at our booth!
---
Our team also takes part in National Denim Day! On May 15th we sport our jeans and pink in support of the CURE Foundation for Breast Cancer Research. Almost all of us have a family member or close friend whose lives have been affected by this type of cancer and we appreciated everyone's support and donations!
---
Movember!
Dr. Potts participates in Movember to support awareness for men's physical and mental health! We will keep you updated on his moustache growth! If you wish to make a donation to this important cause please visit the Wascana Animal Hospital team page on the Movember Canada website.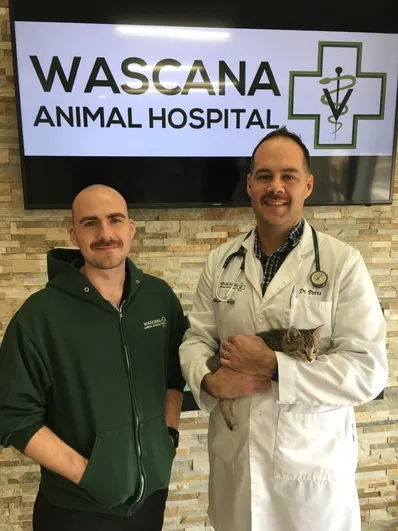 ---
Informational Presentations
Dr. Ulmer has given educational presentations on "Marijuana & Your Pet" to provide pet owners with more information on how the recent legalization of Cannabis this October 2018 has affected veterinary medicine. You can follow more on this hot topic on our Blog!