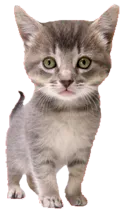 Our hospital strives to provide high quality diagnostic, therapeutic, and surgical services for your pet's complete health care needs. Please do not hesitate to contact us if you have any questions about our services. We are a fully-equipped companion animal hospital with in-house laboratory, digital x-ray, ultrasonic dental unit and drill, ultrasound, acupuncture, and therapeutic laser.
Appointments

Our appointment book is computerized which allows us to efficiently schedule appointments for you and your pet. You can request an appointment right here on our website, through our Demand Force program, our Facebook page, or the Wascana Animal Hospital App! We accept appointments for medical conditions, vaccinations & wellness examinations, elective surgeries, dental procedures, consultations, ultrasound, acupuncture, and laser therapy.
If you feel you have an emergency with your pet, please CALL US FIRST so that a team member can advise you further! Emergencies can be things such as "blocked" cats (cats that are unable to urinate), pets that have been hit by car, pet that are struggling to breathe, or who have ingested toxic substances such as chocolate.
*Please be aware that our hospital will triage emergencies so that true life-threatening situations will be handled before all non-emergent cases regardless of how long you may have already been waiting; we do this to be able to provide the BEST care possible and we know that if your pet was the one in distress you would appreciate all of our efforts being focused on your family member!*
FOR AFTER HOURS EMERGENCY CARE PLEASE CONTACT:
1) 24 Hr Animal Care Center (Regina): 306-761-1449
2) WCVM Veterinary Medical Center (Saskatoon): 306-966-7126
The Veterinarians at Wascana Animal Hospital care for many different species of pets:
Dogs
Cats
Rabbits
Ferrets
Pocket Pets (Guinea Pigs, Hamsters, Hedgehogs)