At Wascana Animal Hospital, we have a fully equipped surgical suite and cutting edge anesthetic monitoring equipment to make surgical procedures as safe as possible for our patients. We also have a fully equipped in-house lab that allows us to perform pre-surgical blood testing prior to anesthesia to aid in identifying underlying blood cell abnormalities or organ disease in advance. This allows our veterinarians to tailor the anesthetic and pain medications to be specific for each patient's health status. At our hospital, only our veterinarians perform surgical procedures and we always have a dedicated registered veterinary technician monitoring anesthesia. That dedicated technician stays with the patient after surgery until they are fully recovered from the anesthesia in their kennel. All patients having general anesthesia at our hospital are on intravenous fluids and are kept warm and comfortable on a heated blanket. After elective surgery at our hospital (spays and neuters) each patient is given a complimentary treatment with our therapeutic laser to immediately assist with pain control and to stimulate the healing process! All surgical patients are sent home with appropriate pain medication to keep them comfortable as they are healing.
Some of the common surgical procedures that we perform in our hospital are:

dog spays and neuters
cat spays and neuters
dental extractions
mass removals and surgical biopsies
eyelid mass removals
eye surgeries such as entropion correction, cherry eye repair
gastrointestinal surgeries
Our veterinarians perform many other types of surgical procedures in addition to those listed above.
We do not perform declawing surgeries on cats at our hospital.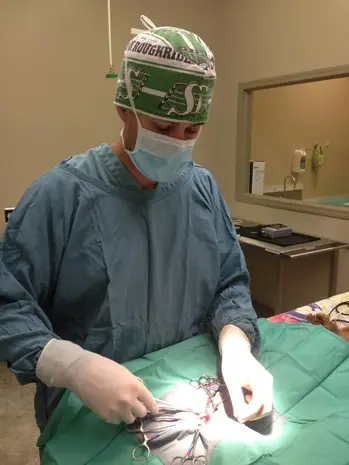 Dr. Potts performing surgery